When it comes to stock research and analysis platforms, investors are often confronted with an array of options. Two popular choices among them are YCharts and Tykr. In this article, we will delve into a comprehensive comparison review of these two financial software solutions to help you determine which platform best caters to your investment needs.
YCharts is a powerful financial data platform, popular among professionals for its wide range of features, such as fundamental analysis, charting, and economic indicators – to name a few. The platform is praised for its extensive data coverage, user-friendly interface, and customizable dashboard, which provides its users with easy access to market information and research tools.
On the other hand, Tykr is an intuitive stock research software designed to simplify the process of finding discounted stocks. With its ability to assess the fair value of more than 30,000 equities and identify those considered "on sale," Tykr is particularly attractive to beginner and intermediate investors. The platform boasts a solid Trustpilot rating and offers features such as portfolio tracking and dummy portfolio creation for risk-free practice.
About Ycharts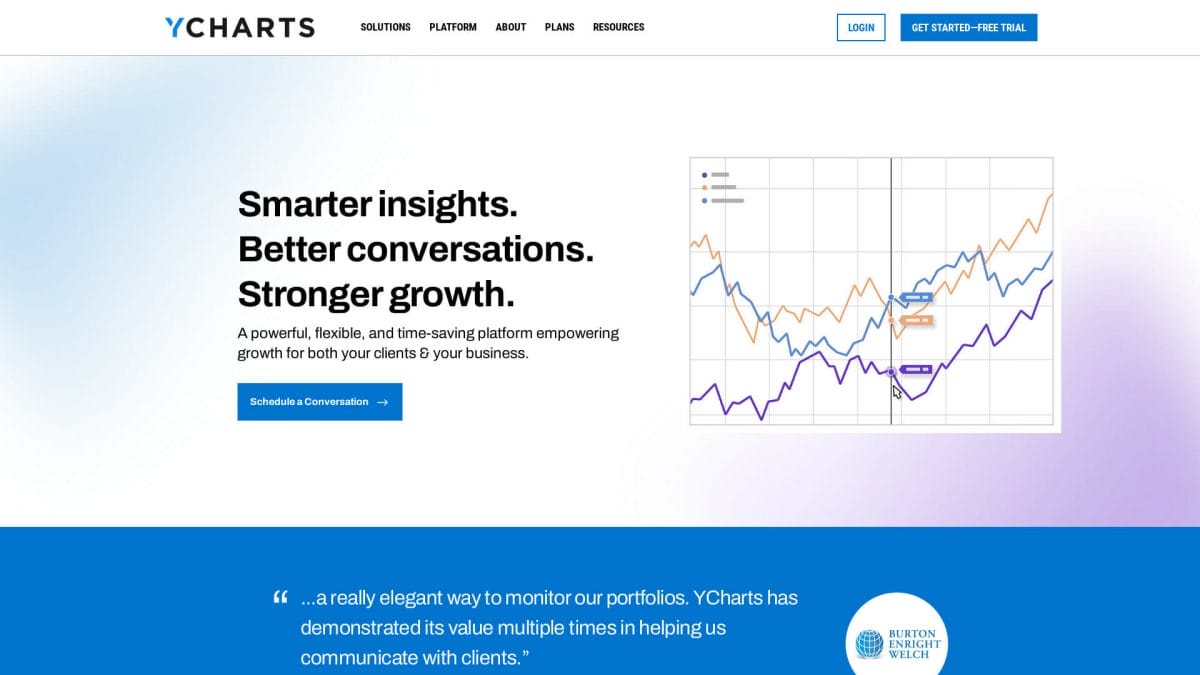 Ycharts, founded in 2009, is a financial research platform designed for professionals and individual investors alike. The platform offers a vast array of features, including a powerful screener, charts, financial data, news, and over 4,000 financial metrics, making it a versatile tool for investment research, timeseries analysis, and risk management. Its user-friendly interface and comprehensive data coverage make Ycharts a popular choice among financial advisors and investors seeking a cost-effective alternative to Bloomberg Terminal.
One of the key features of Ycharts is its advanced screener, which enables users to filter stocks based on a multitude of metrics ranging from market capitalization to price-to-earnings ratios. In addition, Ycharts provides the ability to create and customize charts that display a range of financial data, indicators, and events, allowing users to visualize trends and make informed decisions.
Ycharts also offers a proprietary API that allows integration with other tools and systems, streamlining the investment research process and fostering seamless data sharing. This feature is particularly beneficial for enterprise organizations and financial advisors who require a higher level of analytical depth and customization.
Regarding pricing, Ycharts offers two main plans: Standard and Professional. The Standard plan provides access to essential features such as screening, charting, and analytics, while the Professional plan offers additional resources including Morningstar financial metrics, API access, and premium support. To help potential users determine if Ycharts is the right fit for their needs, the platform provides a free trial of its Professional plan.
In terms of support, Ycharts stands out with its comprehensive customer service offerings, providing email and phone support to both Standard and Professional plan users. This ensures that users can get prompt assistance with any questions or issues they may encounter.
In conclusion, Ycharts is a versatile and feature-rich platform that caters to the needs of a wide range of investors, from individual enthusiasts to professionals and enterprise clients. With its robust suite of tools and cost-effective pricing structure, Ycharts has secured its position as a go-to resource for financial data, screening, and analytics.
About Tykr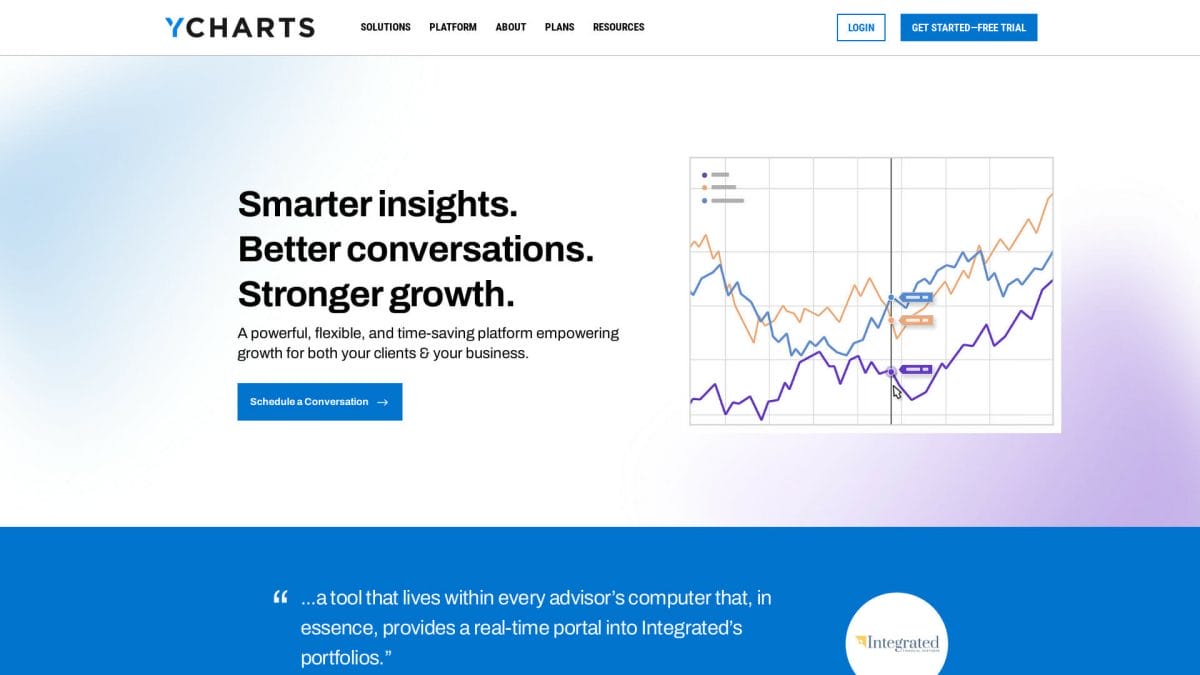 Tykr is a financial analysis and investment platform that aims to provide retail investors with powerful tools for making informed decisions on their investment strategy. The platform offers a user-friendly experience, enabling users to explore various aspects of a company's financial health through features such as income statements, balance sheets, and valuation data.
One of the key advantages of Tykr is its focus on both fundamental and technical analysis. Users can access a wide range of data, including earnings, revenue, dividends, and earnings yield, as well as technical indicators and stock charts. This allows investors to find potential opportunities and develop their investment strategy based on a comprehensive understanding of a stock's fundamentals and market trends.
Tykr's integration with popular financial websites like stockcharts.com and tradingview.com provides users with additional resources for charting and technical analysis. These integrations help to streamline the research process, making it easier for users to find relevant information quickly and efficiently.
One notable feature of Tykr is its stock screener, which helps investors filter through thousands of stocks based on their selected criteria. This filter tool enables users to identify potential investment opportunities that align with their financial goals. Users can also create watchlists to monitor stocks that meet their specific requirements, ensuring they don't miss out on any potential opportunities.
Another key aspect of Tykr is its focus on user experience, which is evident in its clean and intuitive interface. This makes it easy for users to navigate the platform and access essential data, such as financial statements, technical analysis tools, and alerts for specific stocks.
When comparing Tykr with its competitor, YCharts, it's important to consider factors like pricing and available features. Tykr offers a starting price of USD $19.00 per month, making it a more budget-friendly option for retail investors. However, users should carefully evaluate the features offered by each platform to determine which tool best meets their investment needs and preferences.
Round 1: Best UX

When it comes to user experience, both YCharts and Tykr offer unique features that cater to different investor preferences. Assessing these platforms' usability involves examining their interface, navigation, and overall ease of use.
YCharts boasts a clean and organized interface, making it easy for users to find key pieces of financial information. The platform provides a wide range of charting tools, layouts, and data visualization options that can be tailored to individual preferences. Additionally, users can easily customize their dashboards to track desired metrics, providing a seamless experience for investors seeking detailed financial data.
Tykr, on the other hand, emphasizes simplicity in its user experience. The platform is designed with a straightforward layout that allows users to quickly identify undervalued stocks. By using a color-coded system, Tykr makes it easy for investors to determine the overall attractiveness of a stock. This streamlined approach is particularly appealing to beginners and those who prefer a less cluttered workspace.
In terms of navigation, both platforms feature intuitive menus and search functions, enabling users to find the information they need with ease. YCharts excels in its comprehensive search capabilities, allowing investors to filter and sort data based on various criteria. Tykr's search functionality is more focused, prioritizing stock discovery based on its proprietary methods.
Ease of use is a crucial aspect of user experience, and both YCharts and Tykr cater to different user needs. YCharts caters to investors who seek a robust platform with ample customization options and detailed financial data. Conversely, Tykr appeals to those who prioritize efficiency and simplicity in their stock research.
Ultimately, the best user experience depends on individual preferences and investment goals. YCharts' comprehensive offerings and customization options may suit experienced investors, while Tykr's streamlined interface might be more attractive to beginners or those seeking a general overview of potential investments.
Round 2: Features Comparison
YCharts and Tykr are both financial research platforms that cater to different levels of investors, offering various features and tools to simplify stock analysis. This section compares their features closely to help users make an informed decision.
YCharts has a 4.5 out of 5 stars rating and provides a comprehensive suite of tools. Their platform includes advanced charting capabilities, powerful stock screening, and impressive data visualization options. Utilizing a wide range of financial indicators, YCharts offers an in-depth analysis for investors to track performance, undertake fundamental analysis, and study market trends. The platform is generally seen as suitable for intermediate to advanced investors seeking a detailed and robust stock research tool.
On the other hand, Tykr has also received a 4.5 rating on Capterra and is tailored more towards beginner to intermediate investors. Tykr focuses on an easy-to-use stock screening interface, aiming to simplify the investment process for users. The platform has been designed to filter undervalued stocks, allowing investors to find potentially profitable opportunities by assessing the fair value of over 30,000 equities. Additionally, Tykr uses a unique scoring metric to help users identify attractive investment opportunities more easily.
Furthermore, YCharts integrates with several third-party platforms and offers API access, which is a valuable feature for more advanced users seeking to optimize their workflows and automate tasks. Meanwhile, Tykr's review on TechBullion reveals that experienced investors might be disappointed with the platform's limited access to raw financial data.
In conclusion, deciding between YCharts and Tykr largely depends on your experience level and specific needs as an investor. YCharts appears to cater more towards advanced investors, offering in-depth financial analysis tools and impressive data integration capabilities. Tykr is ideal for beginners to intermediate investors, with its simplified stock screening interface and an emphasis on straightforward usability.
Round 3: Price

When comparing YCharts and Tykr, one of the essential factors to consider is their pricing. Both platforms offer various pricing options to accommodate different user needs and budgets.
YCharts provides three pricing tiers: Basic, Professional, and Enterprise. However, the exact pricing is not disclosed on their website and requires contacting their sales team for a personalized quote. These tiers come with different features and benefits to cater to a wide range of investors and analysts.
On the other hand, Tykr offers a more straightforward pricing structure. A Pro Plan Lifetime Subscription is available for $119, significantly discounted from the original price of $900. This plan provides users with features such as discounted stock screener, portfolio monitor and watchlist, as well as financial analysis and educational content.
In this round, Tykr holds an edge when it comes to price transparency and affordability. However, price alone may not be the deciding factor when choosing a suitable stock research platform. Potential users should consider the functionality and convenience of the platform in line with their investment goals.
Battle Decision: Tykr Winner
In the fierce competition between YCharts and Tykr, Tykr emerges as the winner for several reasons. First and foremost, Tykr provides an easy-to-use platform with comprehensive stock screening features, ideal for both beginners and experienced investors. It evaluates over 30,000 equities, identifying discounted stocks and simplifying the investment decision process.
Additionally, Tykr adopts a transparent pricing model, offering a lifetime Pro Plan subscription for just $119, saving users a significant amount compared to YCharts' pricier membership options. This affordability proves particularly advantageous for investors who require a robust yet budget-friendly stock research platform.
Furthermore, Tykr incorporates various insightful tools to track and analyze individual investments, such as personalized watchlists and extensive data on companies' financial activity. The user-friendly interface allows investors to visualize crucial information, empowering them to make well-informed investment decisions.
In comparison to Aikido, the Tykr platform proves superior for building an investment portfolio. Tykr's investment tracking capabilities and data-driven approach to stock analysis give it an edge over its competitor. Also, Tykr receives consistently positive reviews on Capterra, reflecting customer satisfaction with its comprehensive, accessible, and efficient services.
While both YCharts and Tykr boast valuable features, Tykr's budget-friendly pricing, user-friendly interface, and comprehensive stock analysis tools make it the clear winner in this SaaS battle for stock research platforms.