Choosing the right investment platform is an essential step for investors. In today's digital world, two popular options are Tykr and Seeking Alpha. Both platforms aim to simplify stock research and provide insightful analysis, but they have different features, target audiences, and pricing structures. This comparison review will highlight the unique aspects of Tykr and Seeking Alpha, helping you decide which platform best suits your investing needs.
Tykr is a data-driven investment platform offering analytical tools and educational resources for investors of all experience levels. With its user-friendly interface and a flat-rate pricing model, Tykr presents a cost-effective option for those seeking a one-stop solution to stock analysis. On the flip side, Seeking Alpha is a community-driven platform with millions of users worldwide. It provides access to a vast collection of expert opinions, analyses, and articles written by professional investors and quants.
In this comparison, we will delve deeper into both platforms, comparing key aspects like features, pricing, reliability, and suitability for various user types. By the end of this review, you should have a clear understanding of the differences between Tykr and Seeking Alpha, enabling you to make an informed choice for your investing journey.
About Tykr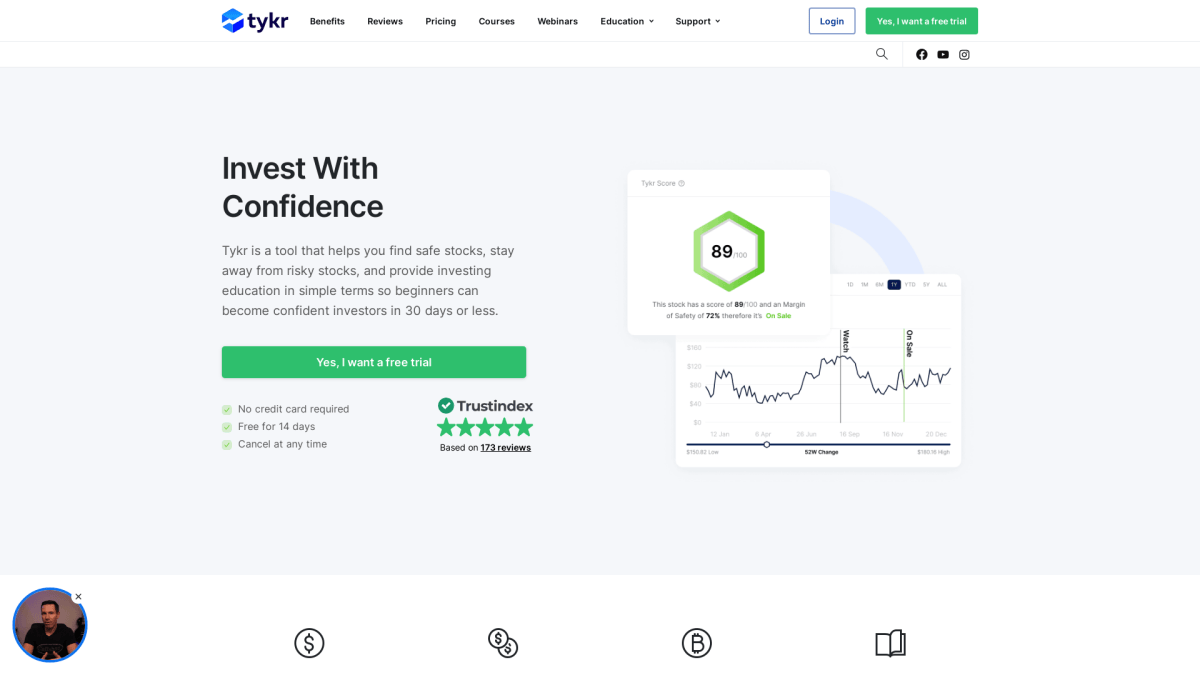 Tykr is an intuitive and user-friendly investment platform designed to help both novice and seasoned investors make informed decisions in their stock market journey. The platform offers a wide range of features, including a comprehensive stock screener, portfolio tracker, and educational materials to guide investors.
The stock screener on Tykr is designed to analyze and evaluate over 30,000 stocks, making it easier for investors to find undervalued stocks with potential for growth. The platform assesses the fair value of each stock, and highlights the ones deemed "on sale" for investors, facilitating the process of making sound investment decisions. This feature is particularly valuable for investors looking to diversify their portfolios and maximize their returns.
In addition to providing stock ratings and recommendations, Tykr offers a robust portfolio management tool that enables users to track the performance of their investments, gain insights into market trends, and get real-time data on their holdings. This feature empowers investors to stay up-to-date on the latest market developments and maintain control over their investments.
One of the defining aspects of Tykr is its commitment to help investors succeed in their investing journey. The platform offers a wealth of educational resources, including articles, videos, and tutorials, that aim to teach essential strategies and principles in stock market investing. This knowledge-based approach sets Tykr apart from competitors by fostering a comprehensive understanding of investing and promoting financial literacy among its users.
Although Tykr is a paid platform, it offers a free plan that allows users to access some of its features and experience the interface before committing to a subscription. This enables potential investors to evaluate whether the platform suits their needs and preferences.
Overall, Tykr is a versatile and highly effective tool for both new and experienced investors seeking to enhance their stock market portfolio and achieve better returns on their investments. With its powerful features, user-friendly interface, and educational resources, Tykr presents itself as a valuable asset for the modern investor.
About Seeking Alpha
Seeking Alpha is a financial market research platform that offers a wide range of services to its users. The platform is well-known for its extensive analysis, research, and ratings of various stocks, bonds, and other financial instruments. It caters to a diverse range of investors, from beginners to professionals, and provides insights that can help them make informed investment decisions.
The platform features several subscription options, including Seeking Alpha Premium and Seeking Alpha Pro. Seeking Alpha Premium is designed for individual investors, offering research, stock ratings, and access to earnings call transcripts. On the other hand, Seeking Alpha Pro targets institutional investors with more in-depth analysis and exclusive content tailored for their needs.
One of the notable features of Seeking Alpha is its Author Ratings system, which provides readers an overview of the authors' credibility and expertise. The platform hosts a large community of contributors who provide analyses and opinions that are then rated by users. This helps ensure the quality of the content shared on the platform.
As a Premium Subscriber, users gain access to additional benefits, like exclusive articles, newsletters that cater to specific areas of interest, and real-time alerts. The newsletters keep subscribers updated on the latest happenings in the financial markets, while real-time alerts help traders stay ahead of the game when it comes to potential investment opportunities.
Beyond its subscription plans, Seeking Alpha also offers a plethora of free resources for users who prefer not to commit to a monthly subscription. These users can still benefit from features like stock news and financial news, which provide significant value for investors keeping an eye on market movements.
In summary, Seeking Alpha is a versatile research platform catering to various investors by providing comprehensive analysis, research, and ratings on numerous financial instruments. Its subscription options, author ratings, and access to exclusive content make it a top choice for individual and institutional investors seeking up-to-date and accurate information to guide their investment decisions.
Round 1: Best UX

When comparing Tykr and Seeking Alpha, it's important to evaluate their user experience, taking into consideration features, ease of use, past performance, and free trial availability.
Tykr stands out for its stock research capabilities, focusing on identifying discounted stocks for its users. With a database of more than 30,000 equities, it analyzes the fair value of each stock to pinpoint potential investment opportunities1. Besides, Tykr's interface is quite intuitive, enabling even novice investors to navigate the platform efficiently1. It's also worth mentioning that Tykr offers a free trial of its services, allowing users to explore its features before committing to a subscription2.
On the other hand, Seeking Alpha is an investment platform used by millions of passionate investors worldwide3. This platform focuses on providing up-to-date news, stock analysis, and a wide range of resources aimed at helping users make well-informed investment decisions3. Additionally, Seeking Alpha has a more established platform history, having built a reputation among investors for its insightful and extensive news database3. However, as with Tykr, Seeking Alpha also offers a free trial to let users test its features and capabilities before opting for a subscription3.
To sum it up, Tykr puts emphasis on stock screening and portfolio tracking, whereas Seeking Alpha incorporates more resources such as news articles, comprehensive analysis, and community forums4. Both platforms present user-friendly interfaces that cater to a wide range of investors, from beginners to experts. With respective free trials available, it's easier for potential users to evaluate each platform's user experience and decide which one aligns better with their investment needs23.
Round 2: Features Comparison
Seeking Alpha and Tykr offer unique and useful features to their users, and a side-by-side comparison can help highlight the differences, as well as the advantages of each platform.
Seeking Alpha boasts an impressive collection of Quant Ratings. Its proprietary rating system helps users identify stocks that are likely to outperform the market. Additionally, it provides a database of news articles, analysis, and community-generated content, enabling investors to access up-to-date information and expert opinions on various stocks. The platform offers different subscription plans, including the Pro Plan for more serious investors, which comes with added perks such as exclusive content, email alerts, and author ratings.
On the other hand, Tykr focuses more on Stock Screeners and portfolio management tools. It offers a comprehensive stock screener that encompasses factors such as valuation, growth stocks, and investment ideas. With a user-friendly interface, this platform aids users in evaluating a large number of stocks based on custom criteria easily. Moreover, Tykr provides TipRanks integration, which displays analyst price targets and recommendations for stocks, thus further aiding users in making informed investment decisions.
Stock Analysis is another area where these platforms exhibit unique features. While Seeking Alpha places more emphasis on news and opinion articles for fundamental indicators, Tykr concentrates on data-driven evaluation extracted from financial statements. Both platforms offer detailed stock pages containing financial details, news headlines, and stock ratings, making it easier for users to conduct stock comparisons and obtain valuable insights.
The availability of alternatives is another critical aspect to consider when comparing features. Although Seeking Alpha is known for its breadth of resources, there are numerous alternatives available, such as Funnel and other investing ideas websites. In contrast, Tykr has fewer direct alternatives offering similar stock screening and tracking features.
In conclusion, the features comparison of Seeking Alpha and Tykr showcases their distinctive strengths and focus areas. With Seeking Alpha's extensive range of analytical resources and community input, it caters well to investors seeking a comprehensive understanding of the market. Meanwhile, Tykr's powerful stock screening tools and data-driven analysis lend additional support to investors looking to make strategic investment decisions.
Round 3: Price

When comparing Tykr and Seeking Alpha, it's important to consider the pricing plans both platforms offer. Each offers a unique combination of features tailored to specific investor needs. Let's take a closer look at their premium plans to help you determine which platform provides better value for your specific needs.
Tykr's pricing starts from a flat rate of $19 per month. This cost grants users access to key features like value, growth, and dividend stock tracking, which is particularly useful for professional and experienced investors. They also offer a free trial to let potential users test out the platform.
On the other hand, Seeking Alpha presents its users with a freemium model, where free users can access basic features such as news updates and discussion boards. The Premium plan costs $189 per year, providing access to premium articles, top stock lists, and exclusive investment tools. For those looking for greater functionality, Seeking Alpha also offers a Pro plan at $2,400 per year, which includes API access for integration into your own systems and premium support.
Both platforms cater to different investor needs and preferences. Tykr's platform focuses more on value and growth, appealing to investors who prioritize stock performance and market trends. Meanwhile, Seeking Alpha's Premium plan offers a more comprehensive suite of analysis tools, such as Zacks rankings, top stock lists, and access to research from professional investors. The engagement with experienced investors on Seeking Alpha can also add valuable insights to your decision-making process.
In conclusion, when comparing the price of Tykr and Seeking Alpha, it's essential to evaluate each platform based on the features that matter most to you. With Tykr's focus on value, growth, and dividend stocks, alongside Seeking Alpha's in-depth analysis and access to professional insights, there's a choice to suit all investor types. Consider the costs and benefits of each platform and choose a solution that aligns with your investment strategy and requirements.
Battle Decision: Tykr Winner
When comparing Tykr and Seeking Alpha, one can confidently conclude that Tykr has the edge as the superior research platform. Tykr stands out due to its easy-to-understand stock analysis, effective stock screening functionalities, and valuable educational resources.
Tykr's stock quant ratings and reports make assessing the fair value of more than 30,000 equities a breeze, allowing investors to identify discounted stocks with ease. On the other hand, Seeking Alpha primarily focuses on its crowd-sourced content and news updates for stocks, which could be overwhelming or noisy for some investors. Tykr offers a more streamlined experience for users to determine the best investment choices.
In terms of educational resources, Tykr takes the lead with its comprehensive and informative materials designed to cater to investors of all experience levels. Tykr's platform includes features helping users understand the metrics behind each stock and what factors drive their valuation. Seeking Alpha does provide insightful articles and news updates; however, it may lack the depth required to educate investors sufficiently.
When it comes to stock research, idea generation tools, and investment advice, Tykr's platform again outshines Seeking Alpha. The intuitive interface and advanced filters allow users to screen and identify potential investment opportunities quickly. Comparatively, Seeking Alpha relies on the insights provided by its contributors, which can be subjective or vary in quality.
Finally, Tykr's pricing model is transparent and attractive compared to Seeking Alpha's elusive pricing. With Tykr's starting price of $19 per month, investors can access its comprehensive platform without breaking the bank. On the contrary, Seeking Alpha's pricing remains unclear, making it difficult for investors to evaluate its value proposition.
To conclude, Tykr emerges as the winner in this battle, offering a more robust and user-friendly research platform, better educational resources, and superior investment tools compared to Seeking Alpha.