When it comes to selecting the best website builder for your WordPress project, two popular choices often come to mind: Visual Composer and Divi. Both of these tools have made a name for themselves in the website building community, offering intuitive drag-and-drop functionality and responsive design capabilities. In this comparison review, we will examine both Visual Composer and Divi to help you make an informed decision on which tool best suits your needs.
Visual Composer boasts a feature-rich toolbox that enables users to create highly customizable websites while Divi is widely recognized for its seamless design customization and flexibility. Each builder provides a unique user experience and offers specific advantages tailored to various types of users. By discussing usability, features, pricing, and support, the following article aims to empower potential users with the necessary information to identify the website builder that is right for them.
With a wealth of options available today, understanding the key differences and similarities between Visual Composer and Divi is essential to optimizing your website creation process. As we delve into this comparison, users can gain insight into which of these powerful builders may align more closely with their individual goals and skill sets, ultimately making the most of their WordPress website development efforts.
About Visual Composer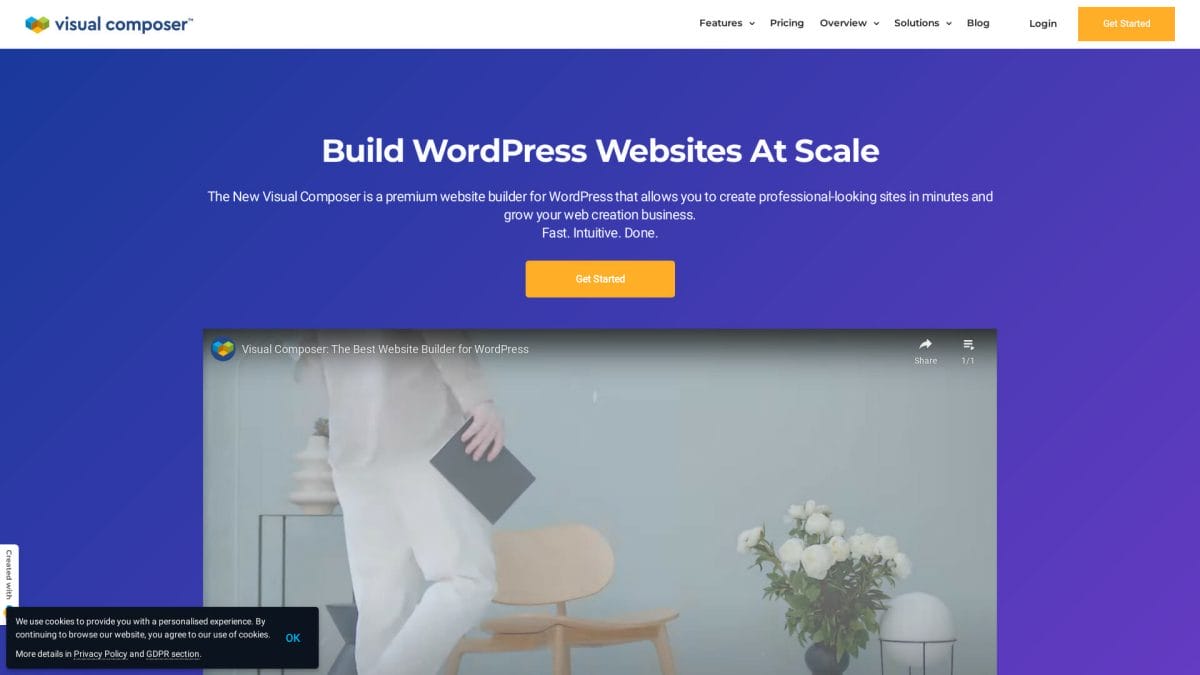 Visual Composer is a popular WordPress plugin designed to simplify the process of website building for users of all skill levels. Through its user-friendly interface and extensive functionality, it enables website owners to create and manage content with ease.
The plugin offers an intuitive visual builder that allows users to design and customize their website elements through a drag-and-drop interface. This eliminates the need for coding knowledge and speeds up the website creation process. With a wide range of available elements and a growing library of pre-built templates, Visual Composer provides endless possibilities for creating unique and personalized websites.
One of the key features of Visual Composer is its compatibility with various WordPress themes, plugins, and third-party add-ons. This makes it an ideal choice for users looking to enhance the functionality of their website without limitations. The plugin also supports API integration, enabling developers to create custom elements and extend the plugin's capabilities.
Visual Composer comes with an extensive set of features that cater to both beginners and advanced users. Its user-friendly interface allows for easy navigation, while the granular control it provides over individual elements ensures that users can create the perfect design to fit their needs. The plugin is also constantly updated to maintain compatibility with the latest WordPress advancements and to improve user experience.
In comparison to other WordPress page builders such as Beaver Builder, Visual Composer offers a wide variety of elements and customization options to create a unique website. However, it also has its own set of pros and cons that users should consider before deciding if it's the right choice for their needs.
One of the key advantages of Visual Composer is its versatility and adaptability in terms of compatibility with other plugins, themes, and add-ons. This allows users to extend the functionality of their website, making it more robust and feature-rich. On the other hand, some users may find the learning curve a bit steep when getting started with the plugin.
In terms of customer service and support, Visual Composer receives positive feedback from its users. The plugin offers a comprehensive help center, documentation, and responsive customer support to assist with any issues that may arise during the website building process.
Overall, Visual Composer is a powerful and flexible WordPress page builder that provides a comprehensive solution for users looking to create visually appealing and functional websites. Its wide range of features, compatibility, and intuitive interface make it a strong contender in the world of website builders.
About Divi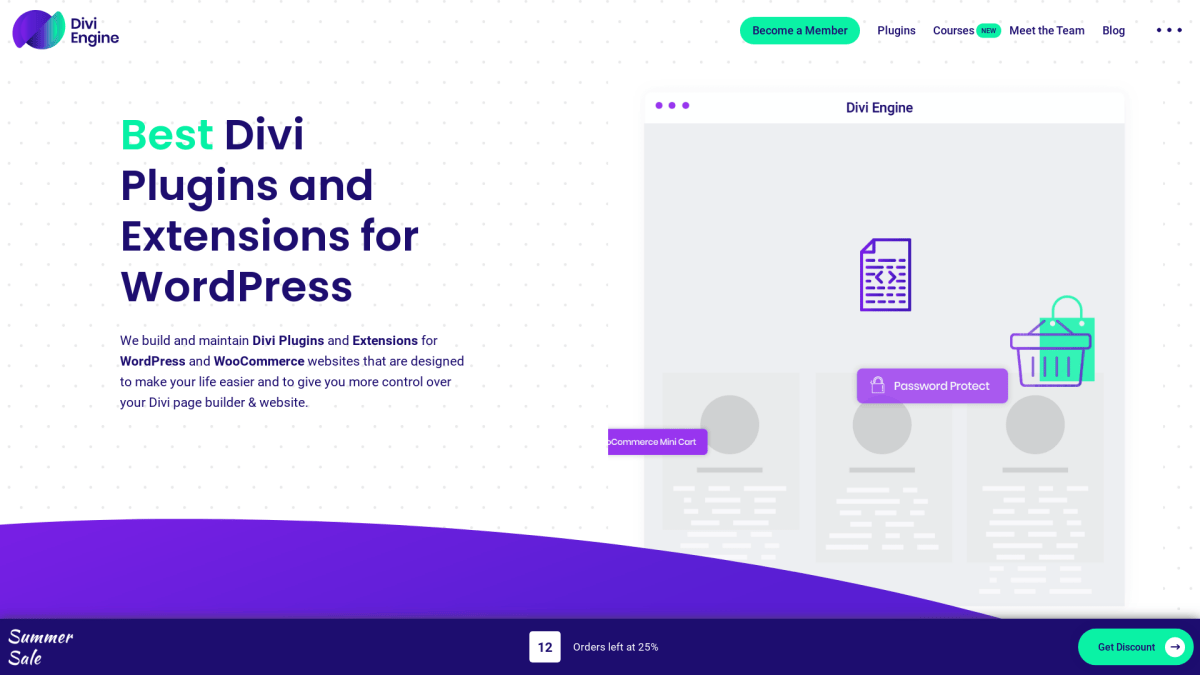 Divi is a popular WordPress theme and page builder developed by Elegant Themes. It offers a powerful, drag-and-drop editor with a wide range of modules and content elements, making it easy to create professional, responsive website designs without any coding knowledge.
Divi is highly customizable, offering numerous options and templates for various industries and project types. Designers appreciate its ease of use, which is further enhanced by its real-time preview feature, allowing for instant adjustments and tweaks to the layout and design. With a large selection of pre-built templates and content elements, Divi ensures a smooth design process, especially for users with a limited background in web design.
In terms of integrations, Divi works with popular third-party plugins such as WooCommerce, making it a great option for online stores and sales-oriented websites. Divi also offers robust SEO features, ensuring that your website ranks well in search engine results. Its responsive design capabilities ensure that your website appears optimally on different devices, providing a seamless browsing experience for your visitors.
One of the notable aspects of Divi is the theme builder, which aids in the creation of custom headers and footers, as well as other elements of your website. This feature adds significant value for both new and experienced WordPress users, allowing for greater control and uniqueness in the final design. Divi Builder also comes with a wide range of widgets and elements that further improve the overall flexibility of the platform.
The customer support offered by Elegant Themes is top-notch, with an extensive knowledge base, video tutorials, and responsive support representatives. Additionally, Divi has a large community forum where users can ask questions or seek assistance from fellow Divi users. For those who might be interested in a free version or trial, Divi does not have a free trial, but it does offer a 30-day money-back guarantee to test out its features and usability.
Despite its many benefits, Divi does have a learning curve, particularly for users who are new to page builders and website design. It might take some time to get accustomed to the interface and the various features available. Nevertheless, once users become familiar with Divi, it usually becomes their go-to tool for website design projects.
Overall, Divi is a powerful, feature-rich WordPress page builder that delivers great performance and an array of customization options, making it an excellent choice for web designers and businesses looking to create an attractive online presence.
Round 1: Best UX

When comparing Divi and Visual Composer, it's crucial to consider the user experience (UX) each platform offers. This includes factors such as the user interface (UI), usability, ease of use, and the drag-and-drop capabilities.
Divi is well-known for its modern, sleek UI. This makes it visually appealing to users, which contributes to a positive UX. However, the learning curve for Divi can be quite high, especially for beginners. As users spend more time exploring Divi, it does get easier, but it may take some time to feel comfortable with all of its features and capabilities.
On the other hand, Visual Composer offers a more intuitive interface. While it may not be as visually striking as Divi's UI, it is more user-friendly, which can be advantageous for individuals with limited experience in web design. Like Divi, Visual Composer has a learning curve, but it is generally considered to be less steep.
When it comes to drag-and-drop functionality, both Divi and Visual Composer excel in this area. Each platform provides a smooth, responsive drag-and-drop experience that enables users to effortlessly create and edit their webpages. However, it is essential to note that Divi's drag-and-drop editor is more feature-rich and offers more customization options than Visual Composer, which may be a consideration for more advanced users.
In summary, Divi and Visual Composer both have their strengths when it comes to UX. Divi offers a more aesthetically pleasing UI, with a wide range of customization options, while Visual Composer offers a simpler, more intuitive interface that is easier for beginners to grasp. While both platforms offer robust drag-and-drop functionality, users should consider their individual needs and preferences when choosing between these web design tools.
Round 2: Features Comparison
When comparing the features of Visual Composer and Divi, it's essential to examine the various elements that make up these website builders such as templates, modules, integrations, and the drag-and-drop functionality.
Visual Composer offers a wide range of features that cater to the needs of both beginners and advanced users. Its pre-built templates are versatile and can be easily customized to suit different website types. Additionally, the platform provides a comprehensive library of content elements and widgets that can be added to your pages with just a few clicks. Visual Composer is also known for its seamless integration with popular WordPress plugins, allowing you to enhance the functionality of your site without any hassle.
On the other hand, Divi boasts an extensive collection of templates and modules, providing users with a variety of design options. Its visual builder allows you to create stunning websites by simply dragging and dropping elements onto the page, making the process incredibly intuitive. Divi's modules are feature-rich and can be customized to fit your specific requirements. Additionally, the platform offers several integrations with third-party services, making it easy to add extra features to your website.
While both Visual Composer and Divi offer a host of content elements, Divi has an edge when it comes to the variety of modules and options available. Divi's drag-and-drop capabilities are also more user-friendly, making it a favorite choice among website builders. However, Visual Composer stands out when it comes to integrating with WordPress plugins, offering more compatibility and smoother functionality.
In conclusion, the choice between Visual Composer and Divi ultimately depends on your specific needs and preferences. Each platform has its strengths, and by carefully considering their respective feature sets, you can make an informed decision that best suits your website-building requirements.
Round 3: Price

Divi and Visual Composer both offer competitive pricing plans for users, but they differ in terms of available features and overall value for money. In this round, we'll compare the pricing and value propositions of both website builders.
Divi operates on a membership model, meaning users pay a recurring fee to access the builder and its features. They offer two options: annual access for $89 per year or a lifetime access for a one-time payment of $249. Both plans offer unlimited access to Divi features, premium support, and updates. Additionally, users receive access to hundreds of website packs and other Elegant Themes products like Extra, Bloom, and Monarch. This pricing model makes Divi an attractive option for those who work on multiple projects or plan to use the platform long-term.
Visual Composer, on the other hand, offers three different pricing plans: Single, 3 Websites, and Developers. The Single plan is priced at $59 per year, supporting one website. The 3 Websites plan costs $149 per year, allowing for use on up to three websites. Lastly, the Developers plan is available at $299 per year and offers unlimited websites with added priority support. Notably, all Visual Composer plans come with a 30-day money-back guarantee.
When comparing the two builders in terms of pricing, it's essential to consider the value for money offered by each platform. Divi stands out with its lifetime access option and the inclusion of other Elegant Themes products in their plans. Meanwhile, Visual Composer might be a better fit for smaller-scale projects or users requiring just one or a few websites.
In conclusion, the pricing structures of Divi and Visual Composer cater to different user needs. While Divi offers cost-effective options for long-term and multi-project users, Visual Composer's pricing structure is designed to support those with smaller projects or fewer websites.
Battle Decision: Divi Winner
Divi emerges as the winner in this comparison due to its overall effectiveness, value for money, and ease of use. Offering endless layout possibilities, Divi boasts over 40 modules and 20 different column layouts, providing users with more design options at their fingertips.
Not only does Divi have a plethora of design options, but users have also praised the software for being user-friendly. With an overall rating of 4.8, Divi has a higher ease-of-use rating compared to Visual Composer, making it a popular choice among users seeking a more intuitive website builder.
In terms of value for money, Divi outshines Visual Composer. Divi boasts a full 5/5 rating in this category, whereas Visual Composer has a slightly lower score. Divi's value comes from the inclusion of all its features and design options within a single package, as opposed to Visual Composer's approach of offering additional features at an extra fee.
When comparing the two website builders, Divi's flexibility, user-friendliness, and value for money give it an edge over Visual Composer. As a result, Divi has established itself as the preferred choice for many users when it comes to website building and design.