In today's fast-paced digital world, businesses need efficient automation tools to streamline their tasks and enhance productivity. Zapier and Pabbly Connect are two prominent players in this arena, offering a range of features to connect various apps and services. This article aims to provide a comprehensive comparison between these two popular automation tools to help you determine the right fit for your business's needs.
Zapier is well-known for its extensive integrations, enabling seamless cross-functionality between different apps and services. This process optimization tool is favored by businesses that require multiple connections across various domains. On the other hand, Pabbly Connect offers a more budget-friendly option with a significantly lower price point while still boasting an impressive lineup of integrations and capabilities.
The following sections will delve further into the specific features, pros, and cons of each platform, as well as their pricing structures, to paint a clear picture of the competition between Zapier and Pabbly Connect in the automation industry. The goal is to provide you with the necessary information to make an informed decision and ultimately choose the right tool for your business.
About Zapier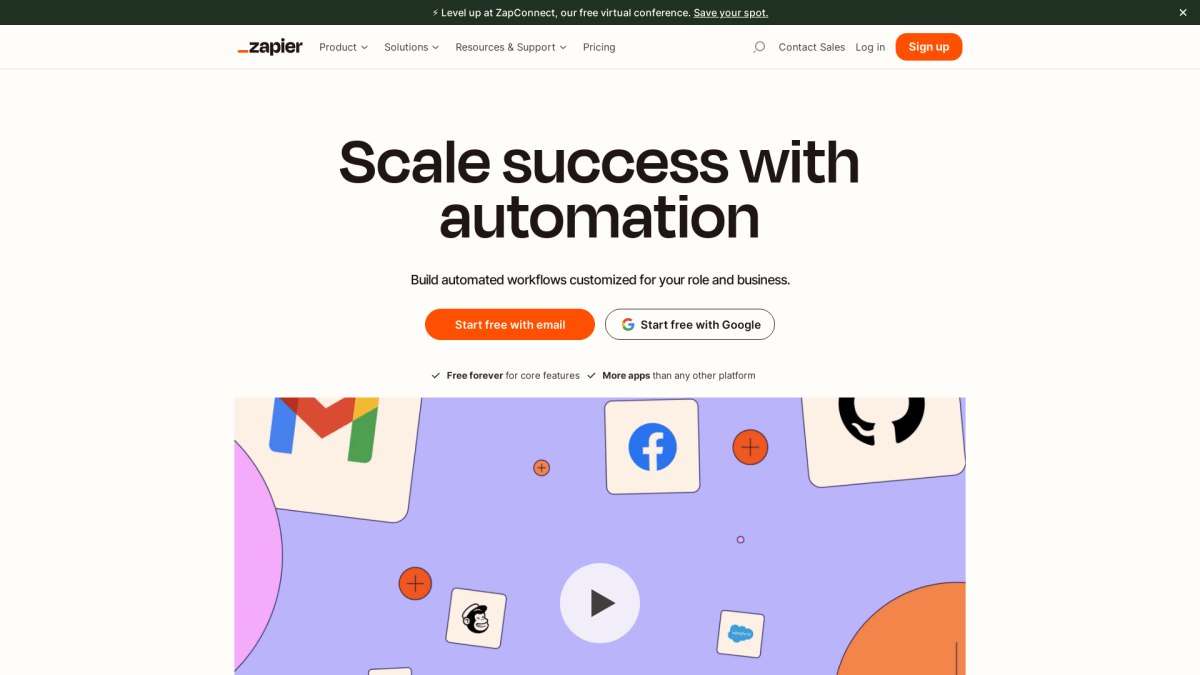 Zapier is a powerful automation software that allows businesses to integrate and automate tasks between various web services and applications. Through its user-friendly interface and extensive library of app integrations, it simplifies complex workflows and enables users to create customized automation processes.
One of the key features of Zapier is its robust integration capabilities, supporting over 5,000 apps and tools, including popular services like Google Sheets, Salesforce, and CRM platforms. This wide range of integrations makes it an ideal tool for businesses to automate and streamline their processes seamlessly. Furthermore, Zapier specializes in creating "Zaps," which are workflows that enable automation of tasks across different apps or platforms with just a few clicks.
When it comes to usability, Zapier's workflow builder is designed to be intuitive and easy to use, even for those without prior coding knowledge. Users can quickly set up triggers, actions, and conditions to guide the automation process, making it simple to automate complex business processes.
Zapier offers a flexible subscription model that caters to various needs and budgets. Users can choose from a range of plans, which offer different levels of tasks per month, access to unlimited premium apps, and features such as folders and webhooks. The software also provides a robust security infrastructure, ensuring that users can trust their data and processes within the platform.
In summary, Zapier is a reliable automation platform that empowers businesses to automate and integrate their workflows with ease. Its diverse library of integrations, user-friendly interface, and flexible subscription options make it a popular choice for businesses looking to streamline their processes and improve efficiency.
About Pabbly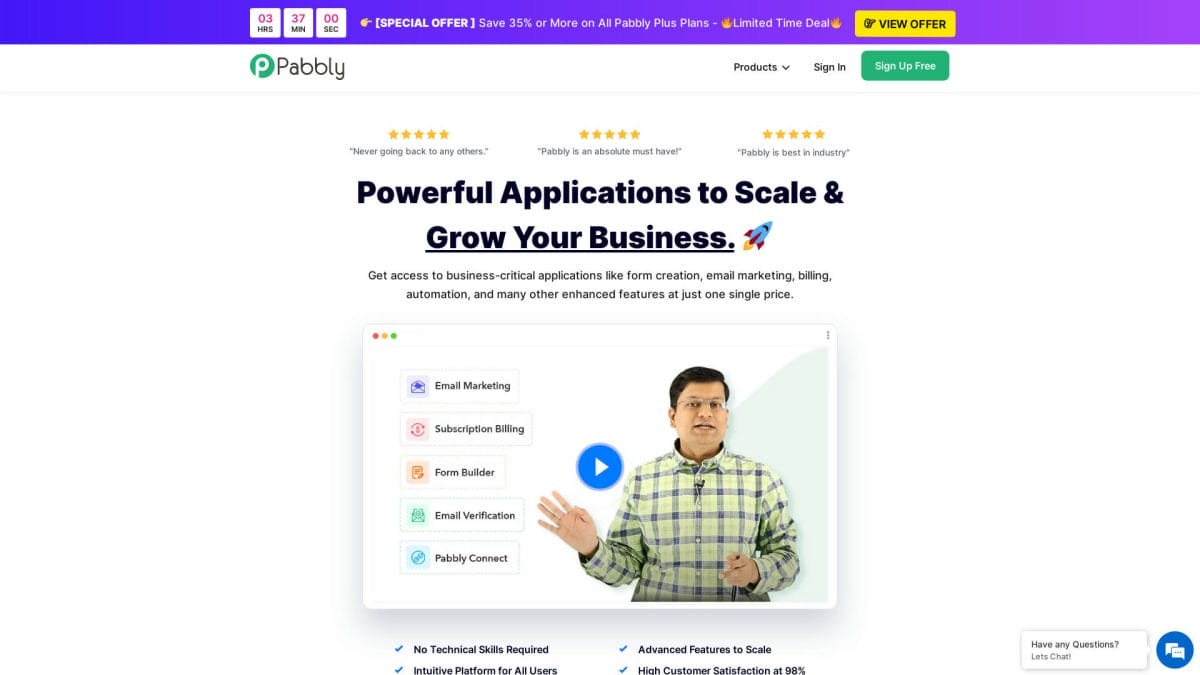 Pabbly is a versatile automation platform that offers a wide range of tools, including Pabbly Connect, a workflow automation service. Pabbly Connect allows users to create custom trigger-based tasks and workflows for various business functions, such as sales and marketing. This powerful platform reduces the need for coding and manual work, streamlining internal tasks to enhance productivity.
One of the significant advantages of Pabbly is its lifetime deal. Unlike many competitors, Pabbly Connect offers a substantially lower price with a one-time payment option. For example, users can get 10,000 tasks for a one-time $699 payment, which is considerably more affordable compared to other platforms like Zapier. This value for money has made Pabbly Connect an attractive choice for businesses of all sizes.
Pabbly Connect supports integration with over 1,000 apps. Users can set up workflows and triggers for both basic and premium apps, which enables better automation of essential processes within their organization. Moreover, Pabbly offers a free forever plan, providing a risk-free option for users to explore the platform's capabilities. Paid plans are also available, presenting different levels of features to cater to various users' needs.
The platform's ease of use is another key strength. Pabbly Connect's user interface is intuitive, allowing users to quickly create and manage workflows. Customers can expect swift customer support for any questions or issues they may encounter. Access to troubleshooting resources, such as routers and error handling, ensures that users can promptly address any problems and maintain seamless workflows.
However, it is essential to consider the limitations of Pabbly Connect. Some users have reported occasional issues with task executions failing, which can impact overall productivity. Additionally, while the platform offers an extensive list of integrations, it is still limited compared to some competitors. Nonetheless, Pabbly Connect's pros outweigh its cons, making it a commendable choice for businesses looking to enhance their automation and increase efficiency.
Round 1: Best UX

When comparing Zapier and Pabbly Connect in terms of user experience, both platforms have their strengths and weaknesses. From the perspective of usability, it's essential to consider the ease of use of each tool, along with their workflow builders and the overall user interface.
Zapier offers a clean, modern interface, and its workflow builder is known for its simplicity and versatility. Users can create and manage their automation workflows quickly and intuitively with drag-and-drop functionality. This ease of use, coupled with screenshots and support materials, enables both beginners and experienced users to navigate the platform smoothly.
On the other hand, Pabbly Connect presents a more affordable solution while still offering a user-friendly experience. The platform provides a workflow builder that is less complex compared to Zapier but is still efficient for setting up automation tasks. Although it might not be as polished in terms of design, Pabbly Connect's interface is straightforward to use, making it a solid choice for those who prioritize cost effectiveness over an extensive range of integrations.
In terms of usability, both Zapier and Pabbly Connect offer ease of use and intuitive workflow builders. However, Zapier takes the lead with its extensive library of integrations and a more refined user interface, making it the go-to choice for users who need a larger number of app connections and a more sophisticated experience.
Ultimately, the best UX depends on individual requirements and priorities. Users seeking a more budget-friendly option should consider Pabbly Connect, while those looking for a more powerful and polished platform may find Zapier to be the better choice.
Round 2: Features Comparison
Zapier and Pabbly Connect are both powerful automation software solutions, but they differ significantly in terms of features and capabilities. Let's take a closer look at what each platform offers.
First, both platforms provide a wide range of app integrations. Zapier boasts having more than 3,000 integrations available, while Pabbly Connect offers a lower number of integrations. Nevertheless, Pabbly shines when it comes to the ease of implementation and cost savings.
As for task management, both platforms handle tasks efficiently, but Zapier allows for more complex workflows with its trigger and actions system. In contrast, Pabbly Connect simplifies the process by focusing on a streamlined and simplified user interface.
When it comes to workflows and automation Zapier offers the use of folders for organizing Zaps (workflows) and provides a robust range of features for designing automated processes. Pabbly Connect also offers automation but lacks the folder organization feature in comparison to Zapier.
A significant difference between both platforms is their approach to routers. Routers are useful tools for directing traffic in an automated process based on specific conditions. Zapier's router functionality is only available in its Professional plan, which starts at $74 per month. On the other hand, Pabbly Connect offers routers with a one-time payment of $699, making it a more budget-friendly option.
Regarding system stability, both platforms are known for their reliability with few reports of bugs or instability issues. However, as with any software, occasional hiccups might occur, and users should stay informed about each platform's updates.
In conclusion, although Zapier offers a more comprehensive range of features and a larger number of integrations, Pabbly Connect provides a more budget-friendly solution without compromising on functionality. The choice between the two comes down to your business needs, budget, and preference for simplicity or complexity in managing tasks and automated processes.
Round 3: Price

When it comes to pricing, Zapier and Pabbly Connect have different approaches. Zapier offers a variety of subscription plans, while Pabbly Connect provides a more affordable pricing structure, including a lifetime deal option.
Zapier has several pricing plans to cater to a range of users with different needs:
Free: Basic plan for those just starting with automation, offers limited features and 100 tasks per month.
Starter: Priced at $19.99 per month, provides 750 tasks per month, premium app access, and 24/7 support.
Professional: Priced at $49 per month, includes 2,000 tasks per month, multi-step zaps, conditional logic, and more advanced features.
Team: At $299 per month, provides 50,000 tasks per month, shared folders, priority support, and is best for small businesses.
Company: Aimed at larger organizations, priced at $599 per month, includes 100,000 tasks per month, high-capacity workspaces, and priority onboarding.
On the other hand, Pabbly Connect offers a simpler pricing structure with three plans:
Free: For 7 days, including integration access and 100 tasks per month.
Pro: At $15 per month, provides 2,000 tasks per month, premium app access, and 5-minute update time.
Enterprise: $25 per month, includes 5,000 tasks per month, instant triggering, and faster customer support.
What sets Pabbly Connect apart from Zapier are its occasional discounts and the option for a lifetime deal. For instance, with Pabbly Connect's lifetime deal, users can pay a one-time fee of $699 and receive 10,000 tasks per month for life. In contrast, Zapier's 10,000 tasks per month plan would cost $194 per month, which amounts to $2,328 annually.
In conclusion, choosing between Zapier and Pabbly Connect depends on the user's budget and specific requirements. Zapier offers more pricing tiers and advanced features, while Pabbly Connect leans towards affordability and simpler pricing options with the added advantage of a lifetime deal.
Battle Decision: Zapier Winner
In the battle of automation tools, Zapier emerges as the winner due to its extensive range of integrations and commendable features. With more than 2000+ apps under its belt, Zapier stands out against Pabbly Connect, which supports around 500+ applications. Due to the vast app ecosystem, Zapier provides its users with numerous options to streamline their workflows and save time.
When it comes to value for money, Pabbly Connect offers a cheaper pricing option compared to Zapier. However, Zapier's pricing is justified by the additional features and versatility that it offers. While Pabbly is indeed budget-friendly, Zapier provides users more options and scalability of integrations, making it a better choice for large as well as growing businesses.
Moreover, Zapier's user-friendly interface ensures that users with varying levels of technical expertise can set up and manage their automation processes with ease. Although both platforms have intuitive interfaces, the choice of integrations on Zapier makes it more attractive for businesses looking for more customization in their workflows.
In terms of pros and cons, Zapier's main advantages include an extensive library of integrations, ease of use, and efficient customer support. These benefits are the driving factors for many users to opt for Zapier. On the other hand, Pabbly's main advantages lie in its cheaper pricing and growing list of supported apps. However, Pabbly's limited application support and comparatively lesser features give Zapier a clear advantage in this battle.
Taking everything into account, it's evident that Zapier has proven its worth and outshines Pabbly Connect. Despite Pabbly's lower price point, the sheer number of integrations and features that Zapier brings to the table makes it the top choice among many businesses and users looking for a reliable and efficient automation tool.