In today's digital landscape, video hosting platforms are essential tools for businesses looking to engage with their audience and enhance their marketing strategies. Two popular choices in the market are Wistia and Vimeo, each providing unique features and benefits catering to different types of users. A comprehensive comparison review of these platforms is vital for organizations seeking the best option for their specific needs and objectives.
Wistia primarily targets small to medium-sized businesses, offering robust analytics, A/B testing, and customizable player options that help drive traffic and increase conversions. On the other hand, Vimeo caters to a broader range of creators, including individuals and large corporations, priding itself on high-quality video streaming and a vast creative community. Both platforms boast of powerful features, but also possess limitations that businesses must consider while making informed decisions.
When comparing Wistia and Vimeo, factors such as analytics, integration capabilities, ease of use, audience targeting, and pricing come into play. By carefully evaluating these aspects, businesses can ultimately determine the most suitable platform for their video hosting and marketing requirements.
About Wistia
Wistia is a well-known video hosting platform designed for businesses, offering a range of features that make it an attractive choice for marketing videos and other content. The platform is geared towards small and medium-sized businesses, and it prioritizes ease of use while still providing powerful tools for video management, analytics, and distribution.
One of the key features of Wistia is its in-depth analytics capabilities. Users can monitor view counts, engagement rates, and other metrics to better understand the success of their content and make improvements as needed. This level of detail helps businesses identify trends and optimize their video marketing strategies.
A major selling point for Wistia is the quality of its customer support. Users can rely on responsive and knowledgeable support staff to address any issues or questions that may arise. This commitment to customer satisfaction has helped Wistia maintain a strong reputation in the industry.
The Wistia Pro plan is tailored for users who need more storage, playlists, and advanced features. This plan includes up to 10 videos, customizable video players, and the ability to capture leads with integrated email capture forms. With additional storage, users can easily manage and organize their video library without worrying about capacity limitations.
Integrations are another significant aspect of Wistia. The platform seamlessly connects with various marketing tools and services, such as email marketing platforms, CRMs (Customer Relationship Management), and more. These integrations help streamline workflows and make it easier to track and manage video marketing efforts.
When it comes to storage and playlists, Wistia offers substantial options to accommodate users with varying needs. With customizable playlists, businesses can create and organize their content to better target their viewers and subscribers. The storage capacity is sufficient for most use cases and can handle growth over time.
In order to grow your audience, Wistia offers features to engage and retain subscribers. Email capture forms, calls-to-action (CTAs), and other interactive elements can be added to videos in order to increase viewer engagement and generate leads. With such tools in place, businesses have a better chance of converting viewers into customers.
In conclusion, Wistia provides a well-rounded video hosting solution for businesses, with features that support capturing, engaging, and retaining subscribers. Analytics, customer support, storage, and integrations make the platform a reliable choice for hosting marketing videos and other content.
About Vimeo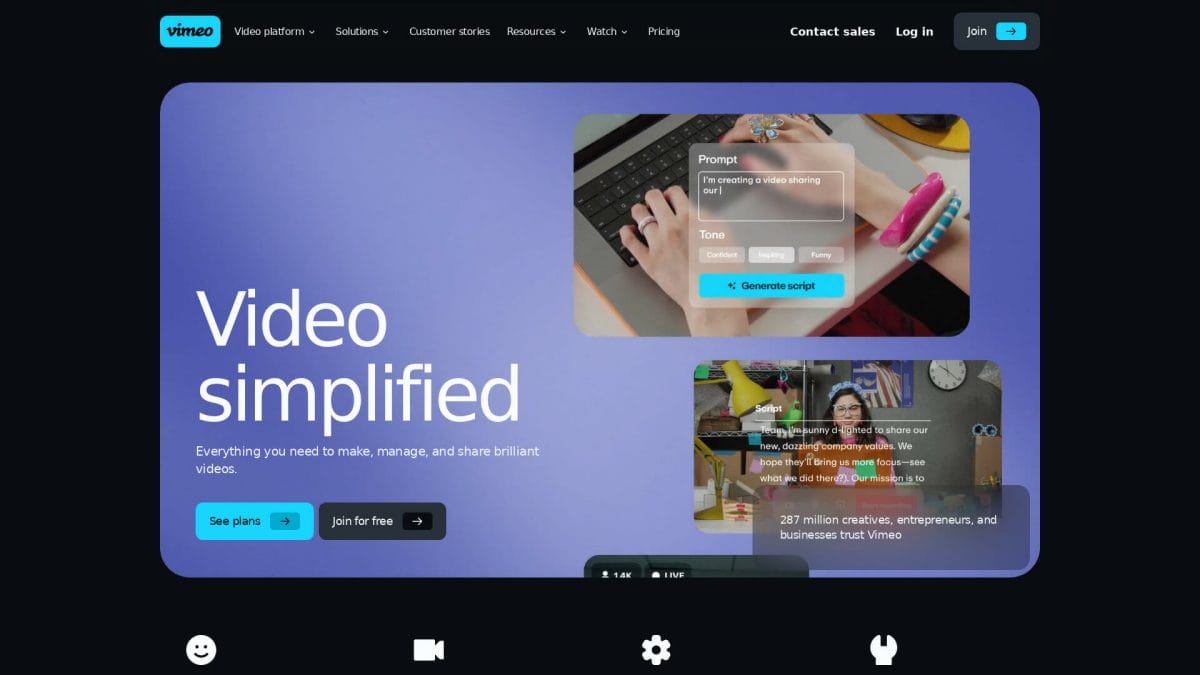 Vimeo is a popular video hosting platform, catering to a wide range of creators and businesses looking to showcase and host their video content. The platform is known for its focus on providing high-quality video streams and customizable video players.
For individuals and small businesses, Vimeo offers a free plan with basic video uploading and sharing features. This plan allows users to upload a limited amount of video content each month. For those who require more advanced features or storage capacity, Vimeo Pro is available as an upgrade, offering additional features such as advanced analytics, video player customization, and the ability to sell or rent videos on demand.
One aspect that sets Vimeo apart from other video hosting platforms is its emphasis on video quality. The platform supports high-resolution videos up to 4K, ensuring that videos retain their quality during the uploading and streaming process. Additionally, Vimeo's adaptive streaming technology makes it easier for viewers to enjoy smooth playback on varying internet speeds and devices.
Vimeo also offers live streaming capabilities for users who want to broadcast their events in real-time. The platform supports simultaneous streaming to multiple destinations, such as social media platforms and directly to your website. With Vimeo's live streaming features, users can also access real-time analytics and engage their audience through interactive tools like live chat and Q&A.
For businesses with more extensive video needs, Vimeo Business provides advanced features tailored to their requirements. This plan includes additional video storage, collaboration and review tools, and advanced privacy and security settings. The Business plan also provides access to Vimeo's in-depth analytics, allowing companies to track viewer engagement, retention, and conversion metrics.
In addition to video hosting, Vimeo offers various tools for video editing and sharing, making it a comprehensive platform for creators and businesses alike. Users can trim and customize videos, adjust video speed, and even add captions. Sharing videos on Vimeo is straightforward, with options to embed videos directly onto websites or social media platforms, password-protect content, or share via private links.
Vimeo continues to be a noteworthy choice among video hosting platforms due to its commitment to video quality, diverse range of features, and flexible plans catering to different users' needs.
Round 1: Best UX

When comparing the user experience of Vimeo and Wistia, it's essential to consider various aspects such as customization, number of playlists and subscribers, pros and cons, and relevant use cases.
Vimeo prides itself on offering a highly customizable video hosting platform. Users can control video settings, allowing them to control access to the content and embed videos onto other websites easily. Vimeo's features also include advanced privacy settings, adaptive streaming, and high-quality HD and 4K playback options. Additionally, Vimeo boasts a massive user base, catering to a wide array of creators and viewers. This subsequently results in more playlists and subscribers for content creators.
On the other hand, Wistia is specifically designed for businesses and marketers, focusing on delivering marketing ROI through video hosting. Wistia emphasizes driving traffic to your website while offering detailed engagement analytics. The platform provides excellent video customization, such as adding interactive CTAs, email gates, and creating playlists. Wistia stands out for its ease of use, responsive embedding options, and seamless integration with marketing tools.
Both platforms have their share of pros and cons. For example, Vimeo offers the benefits of ad-free streaming and high-quality video playback, while Wistia excels with its powerful analytics and market-specific features. However, while Vimeo users enjoy a more extensive network of viewers due to the platform's popularity, Wistia users might face limitations related to the platform's focus on business applications.
The ideal choice between Vimeo and Wistia largely depends on the intended use cases. Vimeo is suitable for individual video creators, artists, and filmmakers who would benefit from a platform with a vast audience and robust customization options. Wistia, on the contrary, is better suited for businesses and marketers seeking to capitalize on powerful marketing tools and in-depth video analytics to drive traffic and generate leads through their hosted videos.
In conclusion, the user experience between Vimeo and Wistia varies based on the specific goals and requirements of the user. Both platforms offer unique features and cater to different audiences; thus, the ideal choice depends on the individual's needs and preferences.
Round 2: Features Comparison
When it comes to features, both Wistia and Vimeo offer a variety of tools to help businesses successfully host and market their videos. In this round, we'll compare key features like video analytics, A/B testing, collaboration, and call-to-action options.
Video Analytics: Wistia shines in its video analytics, providing detailed metrics on viewer engagement, conversion rates, and more. Users can analyze individual viewer histories, heatmaps, and track video performance. On the other hand, Vimeo offers basic analytics, including views, likes, and comments, which might be sufficient for some users but lacks the depth that Wistia provides.
A/B Testing: In terms of A/B testing, Wistia offers native support for testing different video elements, such as thumbnails and CTAs. Users can easily optimize their video content to drive better results. Vimeo doesn't have native A/B testing capabilities, but users can potentially utilize third-party tools for testing purposes.
Collaboration: Collaboration is essential for teams working on video projects. Wistia excels in this area, offering a collaboration suite that allows team members to leave time-stamped comments, review and approve videos, and manage project workflows. Vimeo also encourages collaboration with its review and approval feature, but its capabilities are not as comprehensive as Wistia's.
Call to Action: When it comes to driving viewer engagement, both platforms offer call-to-action options. Wistia has a customizable Turnstile email collector and annotations, which can be used to create tailored CTAs for viewers. Vimeo, on the other hand, provides basic email capture and custom end screens, allowing users to direct viewers to their website or other content.
In conclusion, when comparing Wistia and Vimeo, it's clear that Wistia has an edge in terms of advanced features such as video analytics and collaboration tools. However, both platforms have their strengths and cater to different business needs, so it's essential to consider your specific requirements and preferences before settling on one.
Round 3: Price

When comparing Vimeo and Wistia, it's essential to evaluate their pricing structures and determine which platform offers the best value for your needs. Both Vimeo and Wistia offer multiple pricing plans, catering to a variety of users and budgets.
Vimeo's pricing is primarily based on the amount of storage you use. Their plans start at $9 per month for 1-1000 users with different storage limits and additional features included at higher pricing tiers. The higher-priced plans offer more storage, along with advanced privacy controls, video analytics, and customer support.
Wistia, on the other hand, aims to provide a complete video marketing platform designed for small and medium-sized businesses. Their entry-level price is $0 per month, making it an attractive option for those looking for a cost-effective video hosting solution. Wistia's paid plans include additional features, like video analytics and customizations, supporting businesses as they scale their video marketing efforts.
Here's a brief overview of Vimeo and Wistia's pricing plans:
Vimeo Pricing:
Vimeo Plus: $9 per month with 5GB storage per week
Vimeo Pro: $20 per month with 20GB storage per week
Vimeo Business: $50 per month with 5TB total storage
Vimeo Premium: $75 per month with 7TB total storage
Wistia Pricing:
Free Plan: $0 per month with limited features
Pro Plan: Starting at $99 per month with additional features and customization options
Advanced Plan: Custom pricing, designed for larger businesses with unique requirements
In conclusion, when considering the pricing of Vimeo and Wistia, it's crucial to assess your specific needs and budget. Both platforms offer a range of options to accommodate different requirements, so selecting the right plan depends on your goals and priorities for video hosting and marketing.
Battle Decision: Vimeo Winner
Vimeo emerges as the winner for businesses and individuals who prioritize high-quality video, flexibility in customization, and a strong community of content creators. Vimeo's superior video quality makes it the go-to choice for design and creative professionals who want their work to look its best online.
In the realm of video SEO, Vimeo offers useful integration with social media platforms, making it easier for users to share their content and engage with potential customers. This seamless social media sharing can significantly impact marketing campaigns by reaching a wider audience and driving more traffic to creators' websites.
Another area where Vimeo excels is its pricing plans. With various pricing options, Vimeo caters to different budgets and needs. This flexibility allows users to upgrade their plan as their business grows or change features according to their video marketing strategy source.
Vimeo's standing in the market is further solidified by its high ratings and numerous positive reviews on software comparison platforms like G2 and Capterra. These accolades showcase its commitment to reliability, ease of use, and strong customer support.
Moreover, Vimeo's robust features cater to a wide range of industries and user needs. Its powerful analytics tools, live streaming capabilities, and advanced privacy settings make it an ideal choice for businesses that want to leverage video marketing effectively while maintaining control over their content.
In conclusion, Vimeo's high-quality video hosting, social media integration, flexible pricing plans, and positive industry reputation make it a compelling choice for businesses and individuals who are serious about video marketing and want the best possible return on their investment.