In the world of website building platforms, Webflow and Squarespace have emerged as two of the leading contenders. Both platforms have earned their standing by offering users an array of features that make creating and managing websites more accessible, efficient, and enjoyable. However, each of these platforms has its unique strengths and weaknesses, making it difficult to determine which one is better suited for any given project or individual.
Webflow is known for its advanced design capabilities and flexibility, catering to professionals and more experienced users in the web design industry. On the other hand, Squarespace is admired for its user-friendly interface, stunning templates, and straightforward approach, making it an ideal choice for those who prefer simplicity and ease of use. The choice between the two ultimately depends on the objectives and level of expertise of the website creator.
In this comparison review, we will dive into the nuances of each platform, considering various aspects such as design customization, features, ease of use, and pricing. By providing a detailed examination of both Webflow and Squarespace, we aim to equip you with the information necessary to make an informed decision on the right website builder for your specific needs.
About Webflow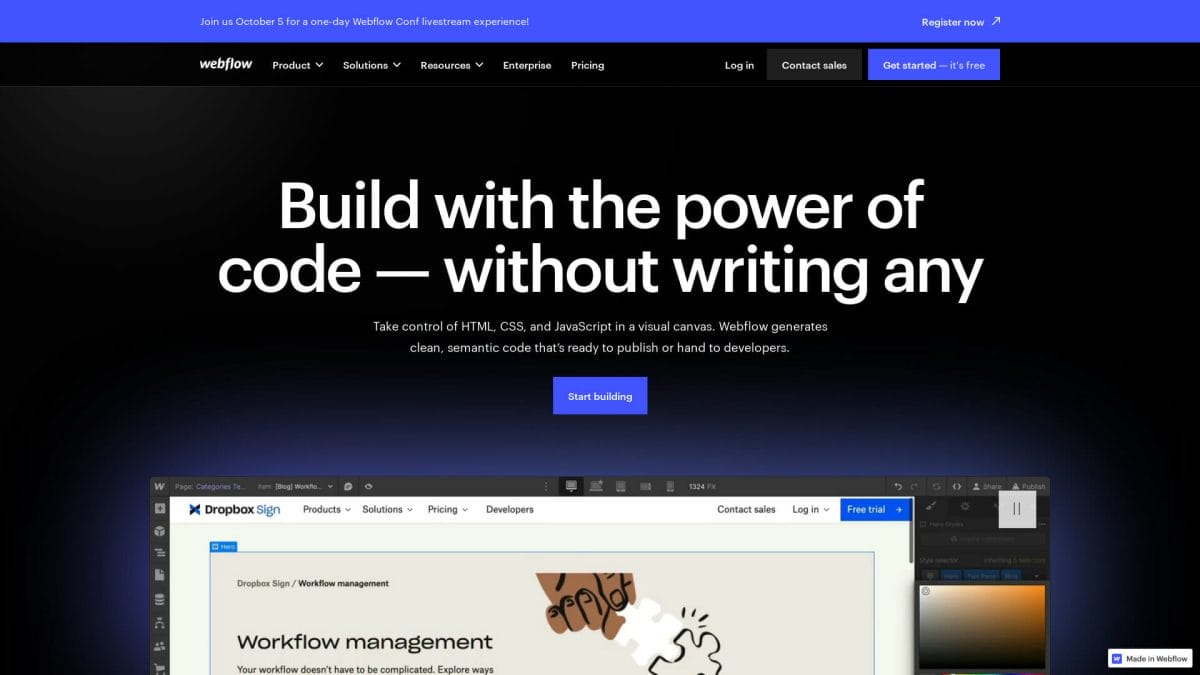 Webflow is a powerful website builder that offers a comprehensive suite of tools for designers and businesses looking to create professional websites. Webflow's visual canvas allows users to design, build, and customize their websites without having to write any code. It comes with a built-in CMS that allows users to manage their site content effectively. The platform also provides a wide array of templates that can be easily customized to suit any business or individual's needs.
One notable feature of Webflow is its ability to create custom animations and interactions on the website using its visual editor. This provides designers with more flexibility and control over their website's appearance and user experience. Additionally, Webflow's advanced CSS and JavaScript customization options make it a great choice for those with coding knowledge, although it may present a learning curve for beginners.
When it comes to pricing, Webflow offers a range of plans to cater to different needs and budgets. The basic plan offers a free trial, while other pricing plans are available for personal, professional, and team use. These plans include various features, such as custom domain names, SSL security, site backups, and collaboration tools. E-commerce plans are also available for those looking to set up online stores, which include transaction fees, product limits, and abandoned cart recovery.
Webflow is known for placing a strong emphasis on SEO features, offering built-in SEO tools to help optimize your website's visibility in search engine results. The platform also supports powerful analytics that enable users to monitor their website's performance and user behavior over time.
As for support, Webflow provides a multitude of resources to help users get the most out of the platform. This includes in-depth tutorials, an extensive knowledge base, and a supportive community forum. Users can also reach out to the Webflow team for assistance via email or live chat when needed.
In summary, Webflow is a robust and flexible website building platform that offers a broad range of features and customization options. It caters well to designers and professionals who require advanced tools and design freedom while still providing a user-friendly interface for those with limited coding knowledge. Webflow's offerings in the areas of SEO, e-commerce, and analytics help users build an optimized online presence that stands out from the competition.
About Squarespace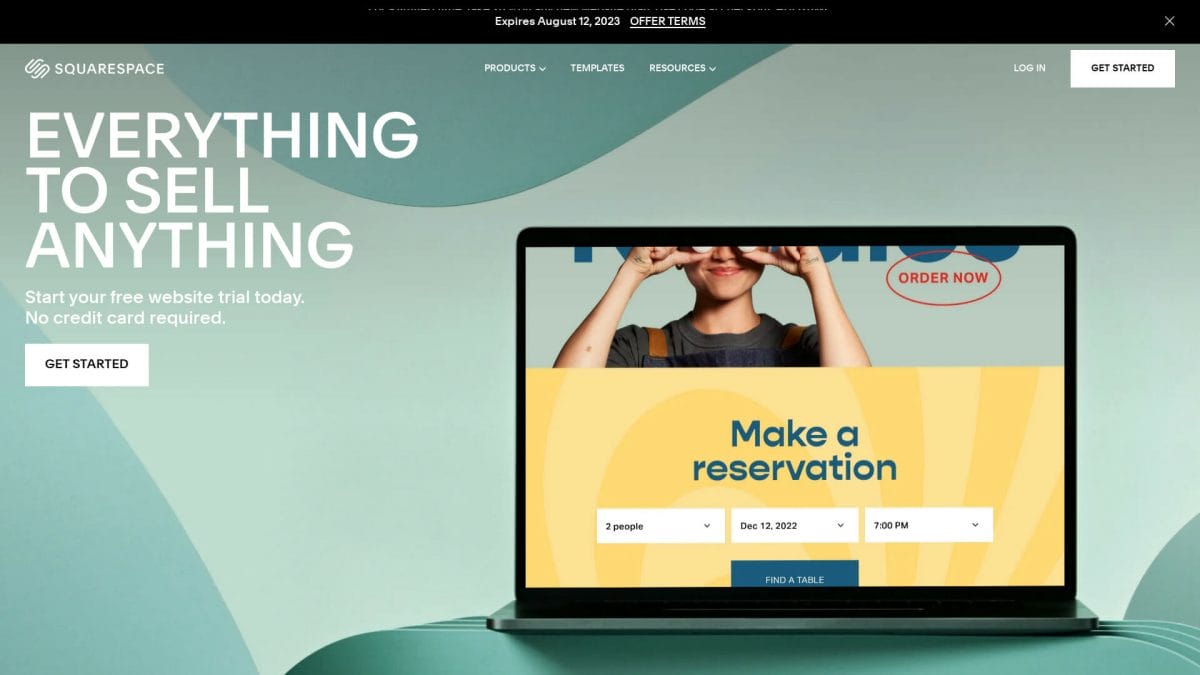 Squarespace is a popular CMS (Content Management System) that enables users to build professional websites with ease. It features an extensive selection of templates designed for a wide range of industries, allowing users to quickly create a visually appealing online presence without the need for coding knowledge.
One of the standout features of Squarespace is its ease of use. The platform provides a user-friendly drag-and-drop editor, enabling beginners and those with limited coding experience to quickly build and customize their website. With a variety of customization options, users can easily modify layouts and fonts or even add custom CSS and JavaScript if they possess advanced coding skills.
Squarespace offers a set of robust SEO tools that help websites rank well on search engine result pages. The platform automatically generates sitemaps, allows the creation of custom meta descriptions, and optimizes website structure for improved crawlability through robots.txt. Moreover, Squarespace equips users with built-in analytics, giving insights into the performance of their website and strategies for improvement.
In terms of ecommerce features, Squarespace provides a comprehensive suite of tools and options catering to those who want to create an online store. With their ecommerce plans, users gain access to a range of powerful features such as unlimited products, abandoned cart recovery, SSL security, and custom checkout pages. Additionally, Squarespace supports popular payment gateways, allowing seamless transaction processing with minimal fees.
Squarespace's pricing plans cater to a wide variety of needs, offering value for money across the board. The platform supports four plans, including the Personal, Business, Basic Commerce, and Advanced Commerce plans, each boasting different features, product limits, and allowed customizations. While Squarespace does not offer a free plan, they do provide a 14-day free trial so users can test out the platform before making a purchase.
For those who require assistance, Squarespace provides top-notch customer support through live chat, email, and a comprehensive knowledge base containing useful tutorials and guides. Users can also join the Squarespace community forum, benefiting from collective knowledge and engaging in discussions on various topics.
In summary, Squarespace is an excellent website builder for both beginners and experienced designers seeking a powerful platform with an extensive array of features, well-designed templates, and comprehensive support. While Squarespace may not offer the same level of design flexibility as Webflow, it remains an attractive choice for anyone looking to create a visually stunning and highly functional website.
Round 1: Best UX

When it comes to user experience (UX), both Webflow and Squarespace have their strengths and weaknesses. In this round, we will compare the UX of these two website builders, focusing on their AI, ease of use, customization options, features, design freedom, learning curve, tutorials, dashboard, and drag-and-drop editor.
Webflow offers a powerful, professional-grade web design tool that can create incredible custom designs with superior flexibility. Its user interface may be more complex and have a steeper learning curve, but the extensive features and design freedom it provides make it an ideal choice for experienced designers or users who enjoy a challenge. Webflow's dashboard is streamlined and well-organized, allowing quick access to your projects, hosting, and site settings. Their drag-and-drop editor, coupled with tutorials and community support, can help you create stunning websites without any coding experience.
Squarespace, on the other hand, is known for its simplicity and ease of use. Its AI-driven approach allows users to select a template and modify it using a straightforward drag-and-drop editor. While Squarespace may not offer the same level of design flexibility as Webflow, it caters to business owners, bloggers, and creatives looking for a polished website without the need for complex design skills. The Squarespace dashboard presents an intuitive layout with quick access to your pages, analytics, and settings. Squarespace also offers helpful tutorials and a robust support community to guide users through the website-building process.
In terms of customization, both platforms provide plentiful options to make your website unique. Webflow has a more comprehensive suite of customization tools, including powerful CSS editing capabilities, complex animations, and responsive design controls. Squarespace offers customizable templates, font pairings, and color schemes, but it may not grant the same level of control as Webflow for more advanced designers.
To sum up, if you are seeking an easy-to-use platform with a wide range of pre-built templates and features that cater to non-designers, Squarespace is the better choice. However, if you have a good understanding of web design concepts and want more customization options and design freedom, Webflow is an excellent option.
Round 2: Features Comparison
When it comes to features, both Webflow and Squarespace have their strengths and weaknesses. Let's dive in and compare them side by side.
Webflow offers a comprehensive set of advanced design tools, making it a favorite among professional designers and developers. One of its most impressive features is its custom animations and interactions, which allow for unique user experiences. Webflow also supports adding custom code, allowing for even greater customization options through HTML, CSS, and JavaScript.
Regarding SEO, Webflow allows users to have full control over meta tags, schema markup, and other SEO tools, giving them the potential to optimize their websites more effectively. Additionally, its CMS features are powerful, allowing for dynamic content management. However, Webflow does not have built-in eCommerce capabilities, which may be a drawback for those looking to build an online store.
Squarespace is known for its stunning and professional templates, with an emphasis on ease of use. Although it may not offer the same level of design freedom as Webflow, Squarespace is perfectly suited for beginners and businesses that require a user-friendly website builder. Squarespace does have built-in eCommerce features, making it a suitable choice for those looking to create an online store.
While Squarespace's blogging functionality is strong, it may not have the same level of customization as Webflow when it comes to using custom code. However, the platform does offer an extensive range of marketing features, such as email campaigns, social integrations, and analytics tools.
In terms of SEO, Squarespace provides a solid foundation for optimizing websites, with basic SEO tools like meta tags, alt text, and SSL certificates. However, it may not offer the same level of control and granularity that Webflow does for advanced users.
Overall, comparing features between Webflow and Squarespace comes down to the users' specific needs. Webflow is the better choice for those looking for advanced design capabilities and custom interactions, while Squarespace may be more suitable for beginners and businesses that need a user-friendly platform with built-in eCommerce and marketing features.
Round 3: Price

When it comes to pricing, both Webflow and Squarespace offer a variety of plans to suit different needs and budgets. Let's dive into the details of the pricing plans offered by each platform.
Webflow Pricing Plans:
Free Plan: Offers basic features with Webflow branding and doesn't allow custom domains.
Basic Plan ($12/month): Ideal for simple sites, provides a custom domain and 500 form submissions per month.
CMS Plan ($16/month): Suitable for larger sites, it offers 2,000 CMS items, custom domain, and 1,000 form submissions per month.
Business Plan ($36/month): Targeted at high-traffic sites, this plan allows 10,000 CMS items and 2,000 form submissions per month.
Webflow also has separate pricing for e-commerce plans, ranging from $29/month to $212/month based on the size and requirements of your online store.
Squarespace Pricing Plans:
Personal Plan ($12/month): Perfect for individuals and personal projects, includes unlimited pages and basic website features.
Business Plan ($18/month): Ideal for small businesses, it offers additional features like complete customization and premium integrations.
Basic Commerce Plan ($26/month): Suitable for basic online stores, includes e-commerce features and no transaction fees.
Advanced Commerce Plan ($40/month): Designed for large or growing online stores, it offers advanced e-commerce features and marketing tools.
Squarespace provides a 14-day free trial for users to test out the platform before committing to a plan.
It's important to note that neither platform charges transaction fees on their e-commerce plans. Additionally, both Webflow and Squarespace offer discounts when users opt for annual billing, providing savings on the overall cost.
In conclusion, while Webflow offers more pricing options and a free plan, Squarespace is known for its value for money, particularly for businesses and e-commerce stores. Ultimately, your decision will depend on your specific needs, desired features, and budget.
Battle Decision: Squarespace Winner
Squarespace emerges as the winner in this head-to-head battle for several reasons. First and foremost, its ease of use sets it apart from Webflow. With Squarespace, users have a smooth experience creating beautiful websites, regardless of their technical expertise. The platform offers a wide range of stunning templates that cater to various industries and personal preferences.
While Webflow provides greater design flexibility, it can be harder to use, especially for beginners. This increased complexity might hinder users who don't have the necessary skills or time to invest in mastering the platform. Squarespace's more user-friendly interface means that users don't have to compromise on design quality for ease of use.
In terms of customer support, Squarespace has the upper hand. The platform provides fast, 24/7 email support and longer live chat opening hours, making it easier for users to receive assistance when they need it the most. On the other hand, Webflow's support is less accessible, making it more challenging for users to resolve issues quickly.
When considering pricing, Squarespace and Webflow have similar price plans, but Squarespace has a 14-day free trial and offers refunds for certain plans. This makes it a more appealing option for users who want to test the platform before fully committing. Webflow, although providing a wider range of price plans and a free plan, can be more expensive and does not offer refunds.
Overall, Squarespace wins the SaaS battle for its combination of ease of use, design features, customer support, and a more flexible pricing structure. It's an excellent choice for users who prioritize a smooth website-building experience and high-quality design options.