Choosing the right antivirus software is crucial for safeguarding your devices and protecting your personal information. With an array of options available in the market, this article focuses on the comparison between two renowned antivirus solutions: Norton and Avast Free. By evaluating their features, performance, and pricing, we aim to provide a clear understanding to help you make an informed decision.
Norton is a well-established player in the antivirus industry, known for its comprehensive security suite and robust protection against malware, ransomware, and other threats. On the other hand, Avast Free is a popular choice among users seeking essential protection without additional costs. The program offers basic antivirus and anti-malware tools, along with some handy bonus features such as a password manager and a Wi-Fi inspector.
Each software excels in different aspects, catering to the specific needs of users. To determine which is the better fit for you, we will delve into a detailed analysis of their strengths and weaknesses throughout the following sections. Ultimately, the choice between Norton and Avast Free depends on your priorities, budget, and level of desired protection.
About Norton

Norton is a well-established antivirus software developed by NortonLifeLock. It offers a range of security products, including the popular Norton 360 suite, which provides comprehensive protection against various online threats.
The Norton 360 Deluxe is a feature-rich antivirus software that goes beyond basic virus protection. It includes anti-spyware and malware protection to keep your devices safe from a wide range of cyber threats. Additionally, Norton 360 comes with LifeLock identity protection, which offers enhanced security for your personal information, especially against identity theft.
The Norton 360 with LifeLock Select package provides even more security features, such as cloud storage and cloud backup. Users get access to a secure online storage option, which helps protect important data from loss or theft. This package also comes with a robust password manager to help you securely store and manage your passwords across multiple devices.
Parental controls are another useful feature available in Norton 360 Deluxe and Norton 360 with LifeLock Select. These parental controls help parents monitor and manage their children's online activities, ensuring a safe browsing experience.
Norton offers a unique Virus Protection Promise—if their antivirus software is unable to remove a virus from your device, their experts will work to resolve the issue, or customers may be eligible for a refund. The company also provides a 60-day money-back guarantee on new purchases, allowing users to test the software risk-free.
In terms of performance, Norton utilizes detection engines that effectively identify and eliminate various types of threats. The software integrates with the Windows Firewall for seamless security, while also offering customization options to suit each user's preferences.
Norton's support is known for its availability and responsiveness, with various channels for customers to get help, including live chat, phone support, and an online knowledge base. This ensures that users can easily access assistance when they need it the most.
In summary, Norton offers a comprehensive range of protection features, such as antivirus, anti-spyware, malware protection, and online threat protection—all designed to keep your devices and data safe from potential threats. With its confident and clear approach to security, Norton has positioned itself as a trusted and reliable antivirus software.
About Avast Free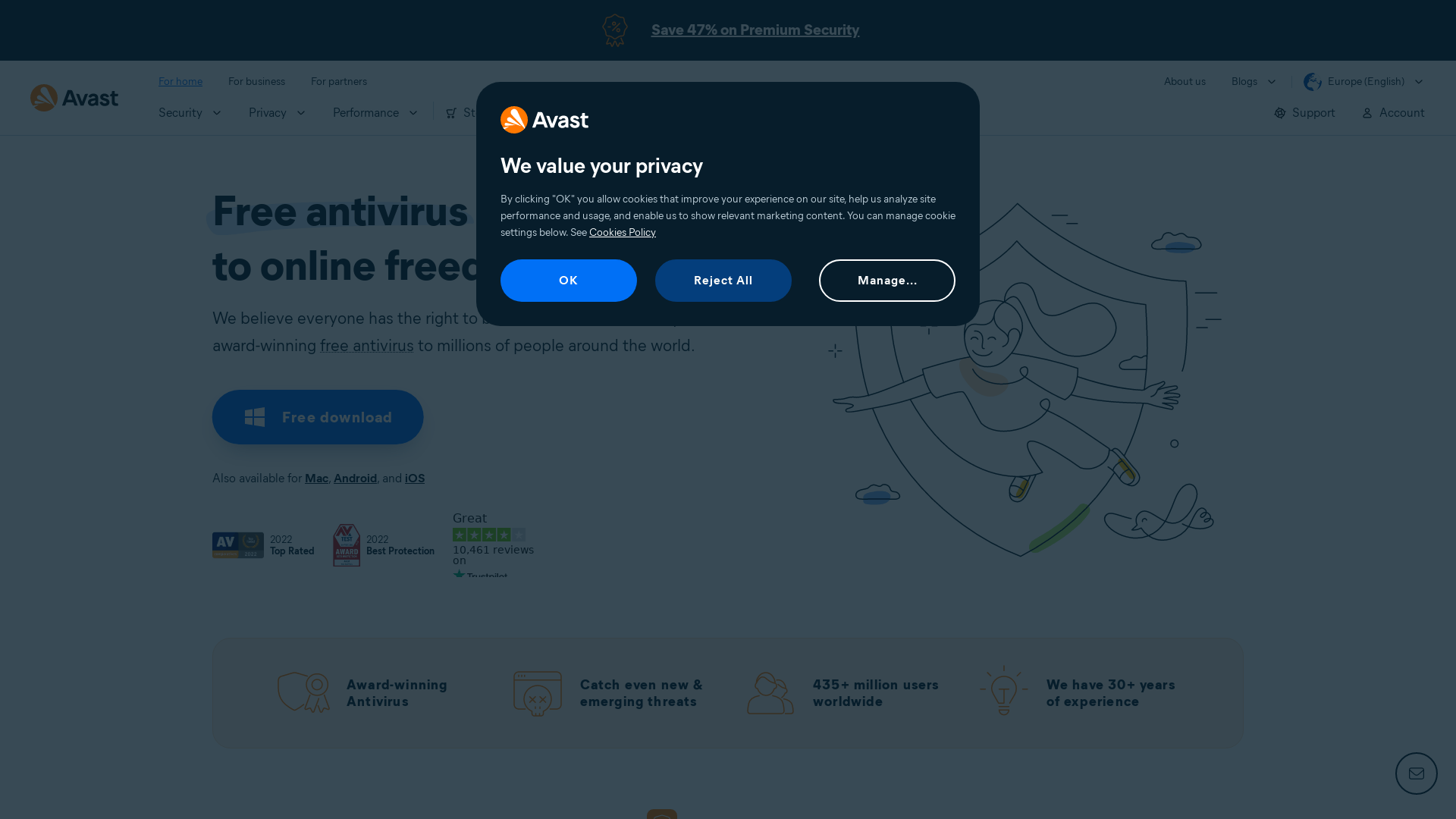 Avast Free Antivirus is a popular and widely used antivirus software that provides comprehensive protection against malware, viruses, and other online threats. As part of the Avast product lineup, Avast Free offers essential features to safeguard your devices and data.
The core functionality of Avast Free Antivirus includes real-time protection with strong anti-malware capabilities. The software constantly monitors your device to detect and block malware, ensuring that your system remains secure from potential attacks. Its extensive virus definitions database is updated regularly, helping to protect against the latest security threats.
One of the standout features of Avast Free is its ability to detect and block ransomware attacks. Ransomware is a type of malicious software that encrypts your files and demands payment in return for the decryption key. Avast's ransomware protection prevents this threat from compromising your data, safeguarding your important files and information.
Avast Free also offers privacy features, such as identity theft protection. This is crucial in the modern digital world where sensitive information can be exposed and exploited if it falls into the wrong hands. By offering identity protection, Avast helps users maintain their privacy and financial security.
Avast One Essential, the free version of Avast One, is another option for users looking for enhanced features. It includes all the core antivirus capabilities of Avast Free, along with additional security tools. Avast One Essential has gained recognition as one of the best free antivirus softwares in 2023, due to its exceptional ability to prevent 100% of threats.
For those requiring a more comprehensive security solution, Avast Premium Security is available as a paid upgrade. It offers advanced features such as a firewall, anti-spam, and secure browsing to further protect your devices and data.
In summary, Avast Free Antivirus is a robust security tool that provides essential protection against malware, viruses, and other online threats. With its real-time protection, ransomware defense, privacy features, and the option to upgrade to Avast Premium Security, it is a strong contender in the world of free antivirus software.
Round 1: Best UX

When comparing Norton and Avast Free antivirus software, a crucial factor to consider is the user experience (UX). This includes aspects such as user interface, ease of use, and compatibility with various operating systems like Windows 11, macOS, and iOS.
Norton offers a modern and intuitive user interface that is easy to navigate, even for novice users. The main dashboard provides quick access to essential features like scanning, updating, and settings. The dark color scheme lends a professional touch, and the layout is well-organized with visual cues and clear labeling of options. Norton is available on various platforms, including Windows devices and macOS. For iOS, Norton offers a separate product called Norton Mobile Security.
Avast Free, on the other hand, features a bright and clean user interface with large icons and a unique color palette. Navigation is straightforward, with core features such as scan, smart scan, and real-time shield prominently displayed on the main screen. Customization options are available to suit personal preferences. Additionally, Avast Free is compatible with Windows 11, macOS, and iOS, making it a versatile choice for users with different devices.
Both Norton and Avast Free have a similar approach to integrating with Microsoft Defender Antivirus. They each offer an option to either disable Defender or run alongside it, serving as an additional layer of protection for Windows users.
In summary, both Norton and Avast Free have their unique strengths in terms of UX. Norton's professional look and easy navigation make it a user-friendly choice, while Avast Free's clean interface and customization options cater to the more adventurous user. Users of various operating systems can find compatibility with either of these antivirus software options.
Round 2: Features Comparison
When comparing Norton and Avast free antivirus solutions, it's essential to examine the features they offer for effective security protection. Let's dive into the key differences between these two antivirus programs.
Norton provides a robust defense system with its Smart Firewall feature, which actively monitors and blocks suspicious network traffic. This strong firewall is a vital component in protecting the user's device from potential threats. On the other hand, Avast also offers a firewall, but only in its premium version.
In terms of spyware protection, both Norton and Avast free effectively detect and remove spyware from your system, ensuring your privacy stays intact. Real-time detection of malware is another important factor in security, and both antivirus programs excel in this aspect, offering constant monitoring for threats and prompt removal of any detected issues.
However, there are notable differences in security features when comparing Norton and Avast's free versions. For instance, Avast offers a Sandbox feature for securely testing suspicious files, while Norton lacks this option. Additionally, Avast provides webcam protection, which prevents unauthorized access to your webcam, while Norton does not include this in its free version.
When it comes to extra tools, Avast free antivirus includes a file shredder for securely deleting sensitive data, ensuring no traces can be recovered. Norton, unfortunately, does not offer this feature in its free package. However, Norton's premium package does include parental control features and a VPN service, while Avast only incorporates these in its higher-tier plans.
In terms of support, both Norton and Avast have extensive databases with articles and guides on how to resolve common issues. The customer support provided by these brands, though, can vary, with Norton being reported as having better customer support than Avast.
Overall, both Norton and Avast free antivirus programs offer a solid range of features for securing your devices. While they have their own unique offerings in terms of security options and additional tools, ultimately it comes down to individual preferences and the specific protection needs for your devices.
Round 3: Price

When it comes to antivirus software, the cost is definitely an important factor. In this round, we will compare the pricing of Norton and Avast's free antivirus offerings, as well as explore how they stack up against other popular options in the market such as McAfee Total Protection, Bitdefender Internet Security, and Kaspersky's suite of products.
Starting with Norton and Avast, both companies offer free antivirus options for users. Avast boasts its Avast One Essential, which has gained popularity for its 100% threat prevention rate, while Norton's counterpart is part of its Norton 360 suite.
For more comprehensive protection, Norton offers Norton 360 Deluxe at a slightly higher price point than Avast's Premium Security. Norton 360 Deluxe covers multiple devices and includes features like a password manager, unlimited VPN data, identity theft protection, and parental controls. On the other hand, Avast Premium Security also offers a robust set of features, with a slightly lower pricing for its annual subscription.
Comparing Norton and Avast to other antivirus software providers, let's take a look at the following options:
McAfee Total Protection: This antivirus software offers a comprehensive suite of features and a flexible pricing range based on the number of devices covered. It also provides a 60-day money-back guarantee for users to test the product before committing.

Bitdefender Internet Security: Known for its strong performance and no-frills interface, Bitdefender offers competitive pricing for its Internet Security package, which includes features like advanced threat defense and multi-layer ransomware protection.

Kaspersky Anti-Virus, Kaspersky Internet Security, and Kaspersky Total Security: Kaspersky's range of products cater to different security needs, each at a different price point. As you move from the basic Anti-Virus to Total Security, you'll see an increase in features and, likewise, the pricing.
In summary, when it comes to pricing and options, both Norton and Avast offer competitive choices within the landscape of antivirus software providers. With their free antivirus versions and a variety of paid offerings, users can find the right balance of features and cost to suit their specific security needs.
Battle Decision: Avast Free Winner
After a thorough analysis, it is clear that Avast Free comes out on top in this antivirus battle against Norton. Avast offers a high level of protection against cyber threats, with outstanding performance in tests conducted by independent testing labs such as AV-Test Institute and AV-Comparatives.
One of the major advantages of Avast Free is its low system impact, allowing for excellent performance without putting a strain on your computer's resources. Additionally, it is effective in detecting and eliminating rootkits, which are malicious software designed to gain unauthorized access to a computer system.
Despite some false positives reported, Avast Free boasts a comprehensive feature set, including dark web monitoring to help safeguard your personal information from being compromised. Furthermore, Avast's customer support is widely praised for being responsive and helpful, making it easier for users to navigate and resolve any issues.
It is worth noting that Avast shares some similarities with its sibling product, AVG, which also offers strong antivirus protection. However, differences do exist between the two, with Avast Free consistently showing superior performance in independent testing labs.
A comparison with other best antivirus programs, such as Avira Prime, reveals that Avast Free continues to hold its own, delivering unrivaled protection against various threats while remaining a cost-effective solution for users.
In summary, Avast Free outshines Norton in terms of performance, system impact, and overall protection against an array of cyber threats. Its impressive suite of features, paired with responsive customer support, solidifies its position as a top choice in the realm of free antivirus software.